Lynn Yaeger: Leather at Thakoon, Sequins at Diane Von Furstenberg, and Joie de Vivre at Skaist-Taylor
Just when Fashion Week was starting to feel a little too safe, the veteran critic finds joy in unexpected places (a parking garage, for one).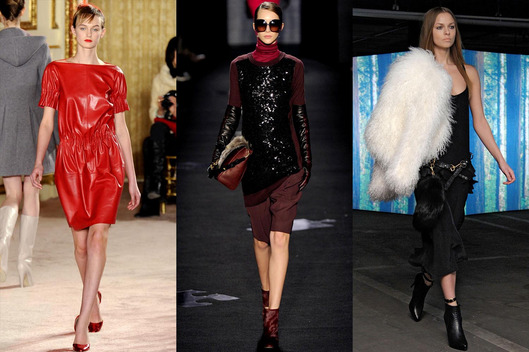 Diana Vreeland, who said a lot of things, once averred that she was, "… a great believer in vulgarity — if it's got vitality. A little bad taste is like a nice splash of paprika ... NO taste is what I'm against." In a season of blandness and predictability — a black coat, no matter how sumptuous the fabric, no matter how well-cut, is still a black coat (and don't you have one already?) — the presentation by Skaist-Taylor, the two women who created Juicy Couture, is a much-needed sprinkle of garish joie de vivre. The affair features films of soaring redwood trees, the words because the sky is blue (one of the less profound musings of the Beatles) inscribed on the entrance wall, and models in getups that range from sheer paisley minidresses with extensive ruffled trains to puffy furs atop chiffon and satin track-pants, in a nod to the dubious garment that made the designers' famous in the first place. Is it intentional that the show is staged in a parking garage under Lincoln Center? After all, as our California sisters tool around in Maseratis, we are in black Macintoshes on the subway. (If there is one jarring note in all the fun and games, it is the extreme thinness of some of the models here — unfortunate proof that the CFDA Guidelines for Health has its work cut out for it.)
Skaist-Taylor exemplifies an almost stereotypical West Coast sensibility; Alexander Wang, who as usual colonizes a portion of a vast passenger-ship terminal on the Hudson, offers a slick East Coast version of what constitutes the elusive quality of "coolness": lacquered tweed jackets topping shiny, pale leather trousers; narrow oxblood leather coats. At the end of the show, a group of models emerge with the bottom half of their faces covered by what looks like hiked-up, perforated turtlenecks (to ward off contagion? To symbolize the oppression of women in the Middle East?). They stand in front of mirrors, then pull off their demi-disguises, revealing that they are Shalom, Gisele, Frankie, etc. (which astute members of this particular audience may have already guessed.)
The chandeliered ballroom at the Plaza, with wedding-cake plasterwork above your head and pale velvet carpet underfoot, where Thakoon shows his collections, is far closer to a Parisian salon than the rough raw spaces that appeal to most young designers. He recapitulates the season's enthusiasm for leather in all its permutations (especially, for some reason, a knee-length skirt, seen variously at DKNY, Patrick Ervell, Tribune Standard, etc., etc.) Thakoon smocks this hide, dyes it bright red, and gives it a surprising femininity (whatever that term means these days.) He also explores the possibilities of using basketweave leather panels in dresses, an ambitious project that may remind you, despite yourself, of Bottega Veneta small leather goods, but maybe in a good way.
Sequins are fashion's amyl nitrate — a cheap high that may not last forever but while you are indulging, they're definitely a cheerer-upper, whether they are rolling in the deep on a pair of $29 shorts from Forever 21 or dancing at the hem of a Givenchy couture gown under klieg lights. Diane Von Furstenberg who, despite the fact that she was born in Belgium, seems like the quintessential American designer, sends out a typically unsnobbish collection (48 looks to suit all shapes and sizes) that includes a lively, jaunty pullover emblazoned fore and aft with spangled panels, and suddenly, you're having a much better time than you have any right to expect.