Agyness Deyn Just Wants a Guy With a Great Personality
She's been single for several months now.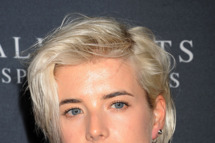 In other single model news, Agyness Deyn has determined that she doesn't have a boyfriend because she's too picky: "Although it would be nice ... I can't just settle for anyone," she says. "The fact is I'm choosy, but mainly about a man's character. He has to be interesting, funny and clever. I don't even mind if he's not very good-looking."