All Hail the Queen
The Queen of England looks resplendent in red.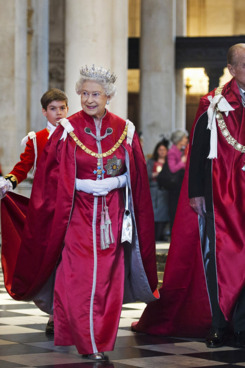 Queen Elizabeth II wore a crimson robe and cape to a service for the Order of the British Empire at St Paul's Cathedral today in London, England. She accessorized with a sparkly crown, silver handbag, and white gloves.
Do you wish we could see more of Her Majesty in her royal attire, or do you prefer her usual pastels and a matching hat look?