American Idol Now Has a Clothing Line
We're only surprised this didn't happen sooner.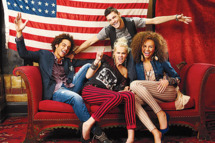 The show will debut the apparel in partnership with Kohl's come April. Called Authentic Icon (AI), we're surprised the concept only took eleven seasons to hit stores ... but the announcement comes just weeks after Tommy Hilfiger joined the show as "image adviser." Coincidence? We'll have to check the shirts for tiny red, white, and blue logos.