Candice Swanepoel Could One Day Record the Soundtrack to Her Own Life
She has musical ambitions.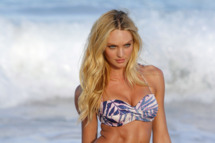 The Victoria's Secret model told Stylelist: "Music rules my life, I can't go anywhere without music. With so much traveling, it's so nice to have a soundtrack to your life ... Secretly I wish I was a pop star. I really do. I'm always around the house singing. I mean, I have the look! With a lot of lessons, maybe."