Dries Van Noten: After a Collection Walks, 'It Gives Me the Postnatal Depression'
He spoke at the French Institute Alliance Française last night.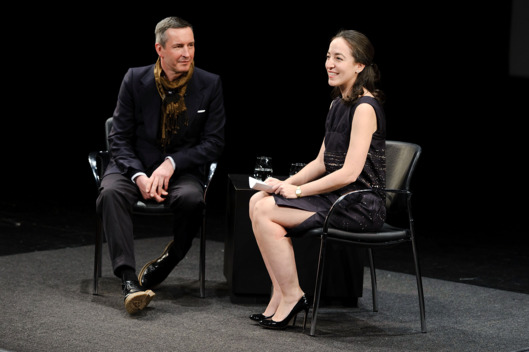 Dries Van Noten spoke at the French Institute Alliance Française last night, the final designer in a three-part Fashion Talks series (Stefano Pilati and Reed Krakoff were earlier participants). Iris Apfel introduced Dries, but not without struggling a bit to get situated onstage ("There's no light here," she whispered to her assistant. "Is this the light?" she asked, gesturing toward the microphone that was picking up all her words). Finally, she addressed the audience — "Good evening, I'm Iris Apfel, geriatric starlet" — and proceeded to read her remarks with the help of a giant magnifying glass. Apfel spoke to Van Noten's "love and respect" for fabric and of his ability to stay independent of corporations and fashion groups. "His clothes are artistic, architectural and completely ageless ... thank God," quipped Apfel. "He's not plagued by trend-itis. He's fiercely independent and appears to be in complete control of everything he does — the design, the creation, and the distribution. Free from all of the hazards of the money-grubbing, trendsetting-plagued boardrooms, he has carved out his freedom to be his own man. Quite a feat in these days of sell outs and media freaks." Quite a feat, indeed. The designer spoke with moderator Pamela Golbin about the challenges he faces as his brand's creative director and CEO, going to fashion school in the seventies, the difficulties of designing, and much more.
On attending Antwerp's Royal Academy: "Going to fashion school in the seventies, it was really difficult to be judged by a [teacher] who said, like, 'No short skirts, only pants,' or, 'You can do short skirts, but then you have to cover the knees with stockings,' and things like that … 'Long hair is untidy, so it had to be all chignon or short hair.' 'Jeans are for poor people.' So, that was our teacher. So, in fact, when you have so many restrictions, you have to be enormously creative ... It was kind of a battle … [But the most important lesson I learned from school was] that there are restrictions involved. And that restrictions ... aren't always bad. I think that in life there are restrictions. People have to wear clothes. [You can't] design whatever you want."

On the difficulties of designing: "Making my collection is for me sometimes troubling. Some people who know me really well, know it's sometimes kind of a struggle. And after the show it gives me the postnatal depression ... I have to cover a lot of markets. You see how people are in Germany and Holland and then in Japan, the weather, the climates [are different]. When you make a winter collection, it has to be successful in Hong Kong and Singapore and also in L.A. and New York ... Shapes of women are also different, so you have to think, Okay, that's more for slender people, that's for the bigger people, and it's all these things."

On his use of fabrics: "I'm more inspired by things which I don't like ... nothing is so boring as something beautiful. I prefer ugly things, I prefer things which are surprising ... You force yourself to ask yourself questions. Quite often I make a collection and I say, 'Here's a color I really don't like.' ... My assistants will say 'Okay, you don't like lilac,' [that means] this season will be lilac. It's like you see a color, and you think, Why don't I like this color? Maybe the composition is wrong, maybe the lighting is wrong — it would be beautiful in silk, but not the synthetic fabric ... That for me is the fun, to play with all the [fabrics] ... Sometimes fabrics come in two to three weeks before the collection has to be ready. Sometimes you get carried away ... [But] when everything goes too smooth, I start to worry. I think, maybe it's not good. It has to be a bit of a struggle. If it's going too smooth … I think, My goodness, still three months to go. Maybe I'll be bored by the time it's over. Let's add some things."

On his fashion shows: "Fashion shows are really my way of communication. I don't go on Twitter, I don't go to parties, I don't often do fashion talks like this. So for me, it's really what I want to communicate. It's the end of the story ... So the venue, the light, the location, the sound, the hair, the makeup, all makes it for me. You have ten minutes to explain to your audience what you're doing, what you want to tell. So everything has to be perfect."
On being both the creative director and the CEO of his brand: "Both things give energy to each other, I think. I like to be aware of what's happening on the business side also. I like to talk to the buyers of the stores which are buying the collection, I like to decorate stores, I like to see how the merchandise is put in the stores. I know a lot [about] that. Of course, I don't want to be a victim of that either. [If] my sales teams says, 'Oh, this style was very successful, please repeat it next season,' I say, 'If it was very successful one season, that means that everyone who wanted to have it bought it already, so let's do something else.'"

On knockoffs: "That's one of the disadvantages of modern technology. It's so fast, that it's already like, a few minutes after the show, on the Internet, you have like, the shoe's details from the back, side, front. It makes it easy sometimes ... I think it's the reality. I don't want to live in the old world, like 35, 30 years ago when people had prêt-à-porter and that was it. I think fast fashion is good. I think modern people combine vintage with designer clothes, with a piece they buy at Zara or other stores — why not?"

On what he wears day-to-day: "Something very boring. It's a case for us fashion designers, when you have to make so many choices in the day — you have to select fabrics, styles — the last thing you want to do in the morning when you open your closet is say, 'Okay, should I put my orange pants with my green sweater?' ... It's more out of laziness [that I only wear my own clothes]. In fact, when I find a style I like I have my assistant make twelve pieces of it."