DVF Felt Ugly and Fat When She Met Diana Vreeland
Give the lady a break — she was pregnant!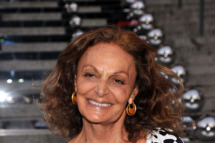 At "The CFDA at 50: The Presidents Speak" series, held at the Fashion Institute of Technology on Tuesday, Diane Von Furstenberg remembered the first time she met then-Vogue editor Diana Vreeland: "I was very, very nervous and intimidated in [her] office," she said. "Everyone was so glamorous and I was so unattractive and fat [because I was pregnant] ... I brought in this rack and started to show the clothes I had brought and heard her coming into the office ... There she was with her red nail polish and big cigarette holder. 'Chin up, chin up, chin up,' she told me and then said, 'Oh, wonderful,' and then I was out of the office."