Giant Crystals, Jeweled Eyebrows, and Crushed Velvet Leggings at Chanel
Karl Lagerfeld's latest collection had a mineral theme.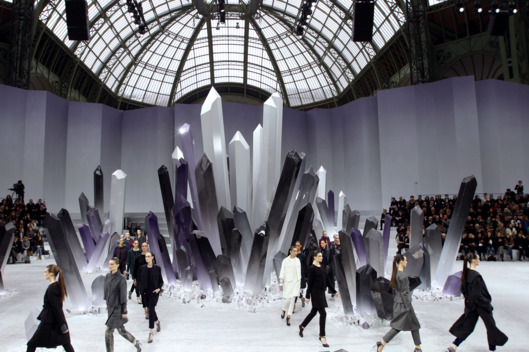 Where does one go after staging a fashion show on a plane? Why, into a mineral cave, of course! Or, as Joe Zee very aptly noted, perhaps the set of Superman II — the part where they go to the North Pole, obviously. Either way, models at this morning's Chanel show navigated their way around clusters of giant mineral formations poking skyward from the catwalk. They wore tiny crystals affixed to their eyebrows (which also resembled ice particles or tinsel), chunky jewelry encrusted with semi-precious stones, and purses designed to look like geodes. In keeping with the theme, the clothes were also jewel-toned, with lots of amethyst purple, topaz yellow, and emerald green. Even Karl Lagerfeld wore violet gloves to take his bow, being the team player that he is.
Related:
See the full fall 2012 Chanel collection
A Random Collection of Karl Lagerfeld's Most Ridiculous Quotes