British Harper's Bazaar Editor Quits, Moves to Net-a-Porter
Lucy Yeomans makes the jump from editorial to retail.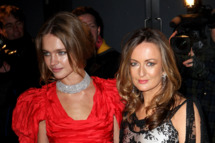 Net-a-Porter gains a new editor-in-chief next month, and a prestigious one at that. Lucy Yeomans, editor of British Harper's Bazaar for the past twelve years, confirmed today she's taking the job. British newspaper The Telegraph reports that she'll "be tasked with making Net-A-Porter the ultimate fashion magazine, merging content and commerce on a global scale."