Italian Vogue Really Getting Into GIFs
This time, they're sparkly.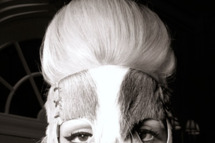 Vogue Italia previewed its controversial "Haute Mess" editorial last month with a series of startling GIF images. The magazine is providing teases of its April issue in the same way — with a collection of photos, GIFs included, from its upcoming cover shoot. The next story will be prom-themed, apparently, with chiseled male models, rainbow text, and Chrystal Copland wearing a hairy (cowhide?) mask — which might be difficult to coordinate with a corsage.