Marc Jacobs's 17-Year-Old Fit Model Walked in the Louis Vuitton Show, Too
Hailey Hasbrook got paid for this one!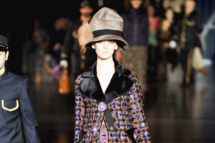 Fortunately, it seems the fine folks at LVMH still like Hailey Hasbrook — after she inadvertently caused some controversy, revealing in Tumblr posts that she worked unpaid, late-night shifts as a "looks model" leading up to this season's Marc Jacobs collection. The teenager walked in yesterday's Louis Vuitton show and, thanks to France's stricter labor laws, she did get paid for booking that job.