Jessica Chastain's Oscar Dress Is Just a Click Away
A similar version is for sale on Net-a-Porter for only $29,000!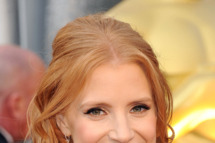 Another day, another Oscar dress that won't be yours: Net-a-porter.com is stocking a version of the black and gold-embroidered Alexander McQueen gown that Jessica Chastain wore to the Oscars for only $28,950. The online retailer's version has a tiered silk-organza skirt, while Chastain's was embellished all the way down to the hem. You'll have to put in a call to Sarah Burton if you want the real thing.