Jimmy Choo Honors Iris Apfel With a Shoe She Certainly Can't Walk In
It's the thought that counts.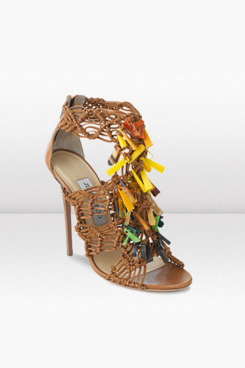 Jimmy Choo has immortalized 90-year-old style star Iris Apfel in hand-woven leather with a pair of heels created in her honor. Dubbed "The Iris," the five-inch-tall sandals come adorned with colorful charms — and attached to a hefty $1,495 price tag. While Iris likely won't be stepping out in her namesake footwear, we can't wait to hear her assessment of those who do! Remember, this is the woman who once remarked, "When I walk down Fifth Avenue in the summertime I just want to throw up."