Karl Lagerfeld Is All Bandaged Up
His self-portrait covers the new issue of <em>i-D</em>.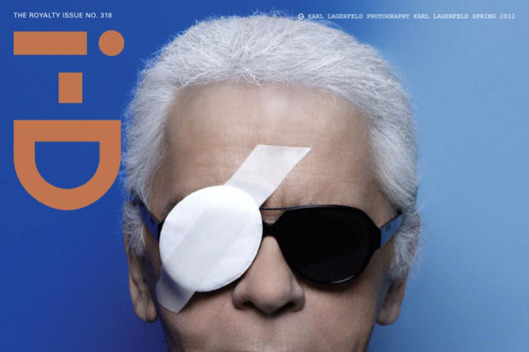 "King of Fashion" Karl Lagerfeld covers the new issue of i-D with an ophthalmologic-chic self-portrait. The magazine anointed him with the title in keeping with the issue's theme of royalty, but instead of crowns, scepters, or fur-lined velvet capes, Karl's just wearing an eye bandage over his omnipresent dark sunglasses— presumably the closest he'd come to winking, in keeping with i-D's classic cover shot trope. i-D has yet to reveal the other members of the issue's royal family, but keep your fingers crossed that Duchess Kate makes the lineup, even if a wink would prove too suggestive for her, also.