Kate Moss to Cameo on Absolutely Fabulous
Why, that's absolutely fabulous news.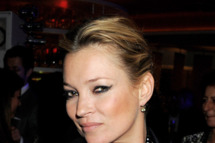 After featuring Stella McCartney in its most recent miniseries, Absolutely Fabulous has cast another of fashion's biggest names. Supermodel Kate Moss will appear in a special episode that airs next week in the U.K. as part of a sports charity fund-raising drive. Maybe she hasn't gone soft on us after all! It's not Moss's first guest spot on a Britcom, either — back in 1999 she appeared as Maid Marian in an episode of Blackadder.