Katy Perry Says Some Wonderfully Awkward Things at Paris Fashion Week
And she's only been there for one day!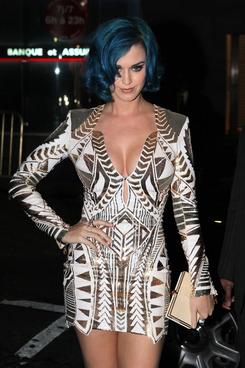 Good news! Katy Perry has touched down at Paris Fashion Week, which means we'll have some entertainment besides clothes and models and disappointing non-shants. Last night she attended a dinner for Hogan, where she met Condé Nast bigwig Jonathan Newhouse for the first time. According to WWD, she extended her hand and exclaimed, "Newhouse, much better than old house!" And regarding her Balmain dress: "It's either Vegas hooker or Balmain. It's the first time I've worn them, and after they read this quote, it might be the last." Welcome, Katy!
Related: What Katy Perry Should Wear From the New Couture Shows