To Discuss: Lindsay Lohan's Non-Disastrous SNL Outfits
Like her performance, they were just okay, but far from terrible.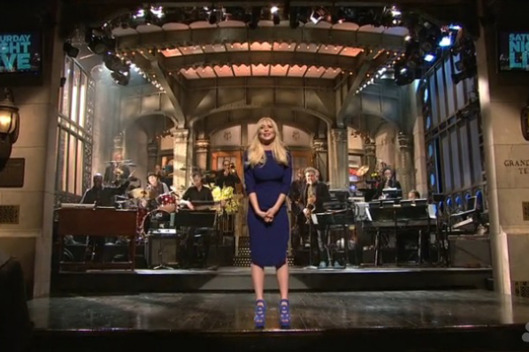 The most popular adjective for Lindsay Lohan's latest SNL performance seems to be "lukewarm," which can also be applied to her wardrobe choices for the show. But assuming that Lohan's main objective was to prove that she's not a gigantic mess these days, her outfits could even be called a success. The four dresses she wore when she wasn't in costume were simple, safe, and almost even ladylike. Sure, they were all tight, but they didn't show cleavage and most of them had sleeves. Since Lindsay needs to prove that she's marketable once again (hell, insurable would be a good place to start), wearing inoffensive, every-woman-esque outfits was a good move for her. Then again, she may not have had much choice in what to wear — how many designers are really willing to lend her clothes these days? Click through our slideshow for an analysis of her four looks.
BEGIN SLIDESHOW