Mad Men Fashion Recap: The Swinging Sixties Have Arrived
Also, Megan wears lacy black lingerie while doing "housework."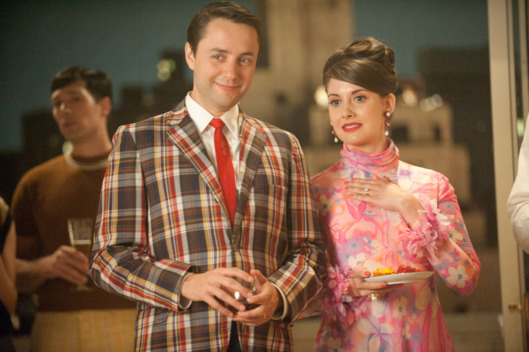 Last night's epic double-episode premiere of Mad Men was a fabulous ode to sixties mod fashion, culminating with Megan's surprise birthday party for Don (40!) at their awesome Manhattan shag pad. (Seriously, with all that white carpeting and modular furniture, it was such a disappointment that their bed didn't rotate.) Don may not have been too happy about the party, but it gave everyone an excuse to dig out their most offensively patterned blazers (Pete!), violently colored dresses (Trudy!) and feathered accessories (Harry!). Meanwhile, poor Peggy wore an unfortunate yellow rose pin, and Joan made a triumphant post-baby visit to the office in neon pink. Enjoy our full recap of notable fashion moments from last night's show.
BEGIN SLIDESHOW