Matthew Weiner Joins the Cambridge Satchel Trend
He gave <em>Mad Men</em>'s cast and crew matching bags.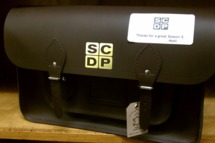 The Mad Men creator presented the cast and crew of AMC's hit TV show with matching bags at the wrap of filming the fifth season. The color selection might be a bit disappointing, but who wants to take a guess at what Jon Hamm keeps inside his murse?