Michelle Obama Has the Airport Blues
She mixed pretty blue and teal shades.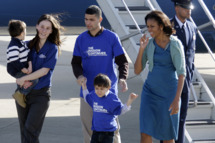 Michelle Obama wore a fitted blue dress, a teal cardigan, and teal pumps upon her arrival at Lambert St. Louis International Airport yesterday. How does the First Lady's outfit compare to celebrities' traveling style? See the full look in our Michelle Obama Look Book.