Project Runway's Mila Hermanovski Shows at Los Angeles Fashion Week
The All Star presents her fall 2012 collection.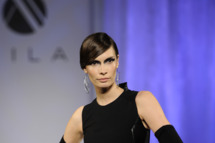 In our interview with Mila Hermanovski following her elimination from Project Runway All Stars last month, she spoke of hoping to have her fall 2012 line ready to show at Los Angeles Fashion Week. And she managed to do so, presenting a chic, color-blocked collection last night. Look out for the cape (it's hard to miss) and her models wearing deliberately mismatched shoes.