Lucky for You, You Can Go See The Hunger Games in Your Very Own District Twelve Pregame Training Uniform
Well, either that or your "Team Peeta" T-shirt.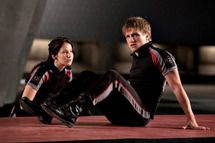 Toys R Us now sells replicas of the outfits worn by Hunger Games' main characters Katniss and Peeta during their pre-Games training session. So now you can get decked out for the movie's midnight premiere this coming Friday and change into your homemade "Team Peeta" T-shirt halfway through the screening.