Remember 'Sexy Spy' Anna Chapman?
She popped up at Moscow Fashion Week.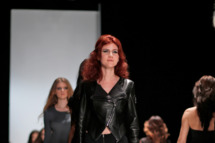 She walked in the I Love Fashion show during Moscow Fashion Week. The "sexy spy" looked, well, sexy in a black leather jacket and black pants — but this time around, unlike her appearance on last year's runway, she didn't brandish a gun (sexily).