Spanx: Real-Women-Tested, Vogue-Approved
A ringing endorsement for Sara Blakely?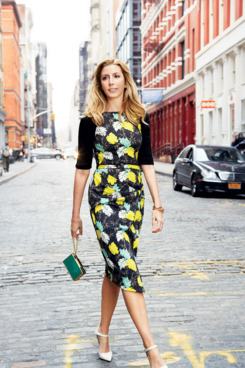 Hot on the heels of being named the youngest self-made woman to join Forbes's billionaires' club, Sara Blakely earns a much, much bigger honor: a Vogue profile. The magazine takes the Spanx creator shopping as part of its April "Shape" issue, and she picks out a dizzying amount of dresses, skirts, flat-front trousers, and shorts, each to go with one of her kitschily dubbed undergarments. Perhaps most amusing is her fitting room banter — "My saddlebags are why Spanx exist!" and "Now that I have a baby I also have a muffin top." Self-deprecation aside, Sara says she's a size 6 ... a size 2 before giving birth to her son ... and the skinny woman with the amazing idea slowly loses us. So, is this Vogue's endorsement for the tummy-binding, butt-boosting shapewear? Did Sara leave boxes and boxes of samples at 4 Times Square? Might this be related to Anna Wintour's smirk at last week's State Dinner? Don't answer that one.