Woman Wanted for Stealing Ralph Lauren Bag
It cost upwards of $17,000.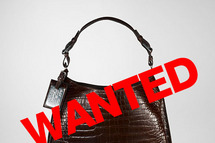 Today in crimes of fashion and nonchalance: A woman is wanted for making off with a crocodile handbag from the Ralph Lauren's Madison Avenue flagship. Gothamist reports that the middle-aged female walked into the store on Saturday around 3:35 p.m., picked up the bag priced between $16,995 and $18,500, and walked out without paying for it. Gothamist also does not approve of her bag choice, calling it "an ugly bag to risk jail time for."