Were You Worried Not Everything On Last Night's Bachelor Finale Was Authentic?
Well, cross the capes off your list.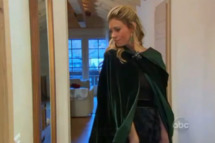 During last night's heart-wrenching spoiled Bachelor finale, both of the final two ladies in the running for a hackneyed, made-for-TV proposal wore capes. The show's stylist wants you to know that's inspired wardrobe work: "When I saw Gwyneth at the Oscars, I thought, 'Oh my God, this [cape] is the most stunning thing I have ever seen ... And then I remembered how we put both girls in capes for the finale! People will probably think I copied her, but the show was shot months before the Oscars." So there.