Arena Homme+ Styles Final Fantasy Video Game Characters in Spring 2012 Prada
You might say it's an "animazing" idea.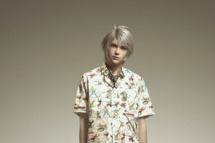 The magazine's latest issue celebrates the cult video-game series' 25th anniversary with a fashion editorial. (It's not the most obvious collaborative birthday gift, but it works.) In a twelve-page spread, the characters are styled in in looks from Prada's spring 2012 menswear collection; as it happens, the Fantasy folk have perfect male-model names like "Lightning" and "Snow." And unlike these computer generated models, the results aren't creepy at all.