Azealia Banks Tweeted That She's Performing at the Met Gala
Time for Anna Wintour to learn the lyrics to "212."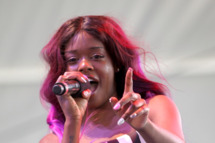 On Friday, she tweeted: "I can't wait for the MET ball! I'm going as Alexander Wang's date. He custom made my outfit and shoes ! !!!! It's soooo hot !" And earlier today, she posted: "I've Been invited to Perform for PRADA next week in NYC! Gonna b so lush !! Let's see what new songs I debut there! #metball2012" Is someone else performing for Schiaparelli? In any case, Anna Wintour better learn all of the lyrics to "212" stat so she can sing along.