Best Bet: Bronze Diamond Drop Earrings
Unfussy drop earrings that showcase less precious metals on display.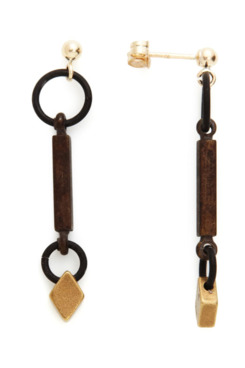 Silver and gold are inarguable classics, but these drop earrings by Los Angeles designer Gabriela Artigas showcase the potential of less precious metals. The bronze diamond charms and fourteen-karat-gold studs provide a striking contrast to the connecting brass between, which lends the pair an industrial, slightly weathered edge. The one-and-a-quarter-inch drops make a versatile complement to solid staples or prints without the fussy feel of glitzier costume jewelry.
Gabriela Artigas bronze diamond drop earrings, $80 online.