Bloomingdale's Workers Rallied for Raises Today
They're in negotiations for a new contract.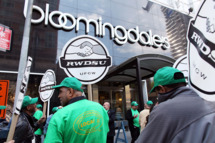 Workers at Bloomingdale's flagship store rallied today for a new contract that would account for the company's increased sales and profits over the past year. A press release from the workers' union points out that Terry Lundgren, the CEO of Macy's, Inc. (which owns Bloomingdale's), got a pay bump of nearly 23 percent last year to $14.5 million.