Cat Marnell: 'Why Do I Have to Clean Up?'
The xoJane.com beauty director talks pills, lipstick, and rehab.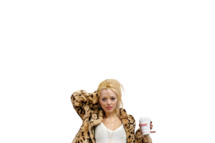 "I'm bad all of the time, and beauty products are fixing me," says Cat Marnell. "Without beauty products, I would have never gotten through my life. I owe everything to them. They've afforded me unlimited debauchery. It's been beyond." Last week, Marnell's bosses at xoJane.com (she's the site's most-read blogger) convinced her to enter rehab. Read the full 142-minute encounter in this week's issue.