Cosmopolitan Is Designing Things for J.C. Penney
This is one collaboration we didn't see coming.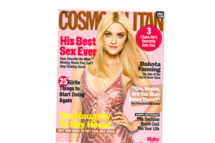 The magazine's editors are said to be overseeing the production of bags, lingerie, jewelry, and accessories for a fall launch at the department store. This certainly fits in with J.C. Penney's attempt to revamp its image, while Hearst could be planning to promote the Cosmo–branded products on its "Hello Style" YouTube series.