Donatella Versace Eager to See If the Dowager Countess Discovers What a Weekend Is
She's a "big fan of <em>Downton Abbey</em>."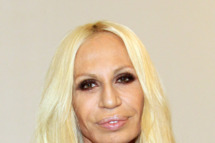 At the end of a long day, "If I am on my own, I might watch some TV," the designer tells Harper's Bazaar. "I only watch the news on TV. Otherwise I catch up on movies on DVD. Recently I watched The Help, The Ides of March, and Tinker Tailor Soldier Spy. I'm also a big fan of Downton Abbey."