Donna Karan Wants to 'Redesign Casts' for Her Broken Bones
"I've had so many casts I'm bored!"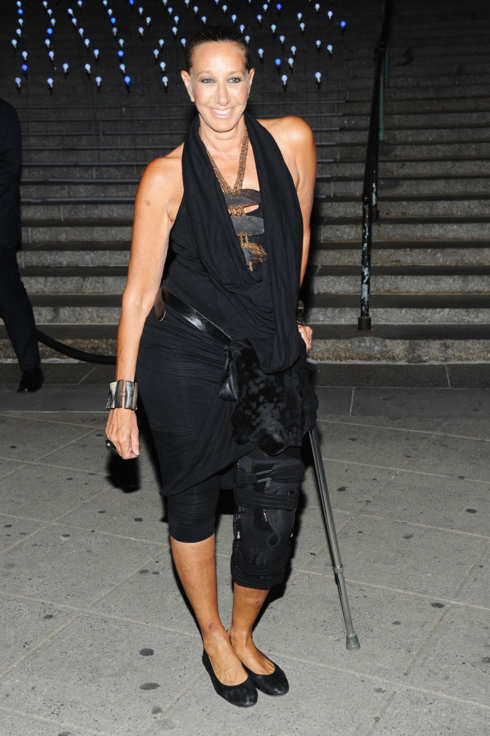 Donna Karan brought an atypical accessory to Tuesday night's cocktail party for the 11th Annual Tribeca Film Festival, hosted by Vanity Fair: a walking cane. Further examination revealed a giant black knee brace as well. Both were clearly hospital-issue, but they blended in well with her black ensemble and chunky pewter-colored jewelry.
This is not the first time we've seen the designer injured and out and about. In late 2010, she went to a Russell Simmons Haiti fund-raiser with a cast, which she'd lined with cashmere, on a wrist she'd hurt while on a safari. (Yes, rich people problems.) So, what happened this time?
"I'll tell you this: I'm never going to another Donna Karan shoot," she said, laughing. The night before, she'd walked into a pitch-black room where they were shooting her latest ad campaign. Somewhere in the darkness lay a very thin, black chaise lounge. Karan stumbled into it, and, she said, "I went flying. I'm one of those people who knows when a bone is broken, and my knee was broke-en!" She'd fractured it down the middle. She has about a month of recovery ahead of her, but she was in very good spirits. Several guests expressed admiration that she'd made it all the way up to the top of the steps of the New York State Supreme Courthouse in her condition. "Look," she said, "this isn't the first time I've walked up those steps with a cane! I've broken too many bones. I've broken both of my knees, my tibia, my wrist, my finger. I've had so many casts I'm bored! I'm going to redesign them. I've decided."