Girls Fashion: Muumuus, Snuggies, and No Nudity
Marnie ditches the buttoned-up work outfits, and other notable costumes from Episode 3.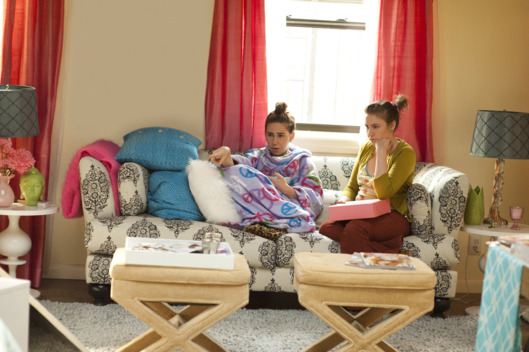 It was a highly exciting week on Girls, outfit-wise, probably because there was no nudity in this episode. Jessa's ensemble takes the cake, as usual: She shamelessly combines a sheer white muumuu with neon pink underwear to go babysitting. However, a new and exciting side of Marnie rears its sexy head in the form of a short, tight red dress, which she wears to a gallery-opening party. Finally, Hannah dresses up in a goth outfit for no discernible reason, and Shoshanna wears the show's first Snuggie. Read on for our fashion analysis!
BEGIN SLIDESHOW