Girls Fashion: Nudity, Plaid, and More Velour Sweats
Jessa's sexy preabortion kimono, and notable costumes from Episode Two.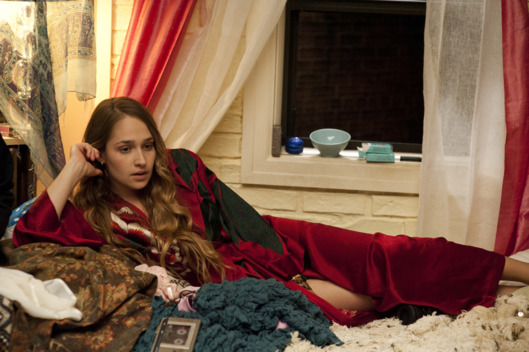 The second episode of Girls starts with two awkward sex scenes, followed by 24 minutes of sex aftermath. Namely, Jessa's abortion plans and Hannah's STD scare. Costume-wise, this plotline obviously calls for some nudity but also a fair amount of lounging-around-the-apartment clothes, the kind one wears while fretting about the state of one's vagina. Meanwhile, Hannah goes on a disastrous job interview (with a very buttoned-up-looking Mike Birbiglia) wearing an unfortunate maroon waist-belt. Read on for our analysis of each character's wardrobe choices.
BEGIN SLIDESHOW