Prince Harry Was Just Joking About Kate and Will Running the London Marathon
Such a prankster, he is.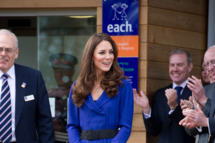 Prince Harry attended the London Marathon this weekend, where he told the BBC, "My brother and his wife will be doing it next year, I think." When his interviewer giggled in disbelief, Harry added, "He's going to have to now, isn't he?" A Clarence House spokesman said later that Kate and William had no firm plans to enter and that Harry's comments "were said in jest."