At First, Jenna Lyons Wasn't Sold on Mickey Drexler's P.A. System
"He's always here in spirit."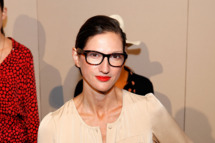 "When he was installing the system, I was like: are you kidding me with this?" the J.Crew creative director told the Guardian. "I came down after the meeting and the guys were stringing the cord already." Now Lyons says she loves it, adding, "[Mickey] even checks in from holiday — he's like: 'Hey, I'm in Saint-Tropez; it's gorgeous here! Anyway, I'm having lunch at Club 55 and you should see all these people wearing white! We should do more white, it's summer, do we have enough white?' It's hilarious."