Look at Karlie Kloss in Her Monogrammed Blue Silk Pajamas
"Sapphire" blue, to be specific.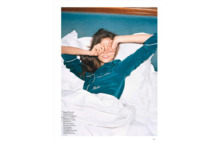 This month's British Vogue contains a lovely look at a week in the life of top model Karlie Kloss. And the week in question just happens to be spring 2012 couture week — go figure! The fourteen-page spread includes both "on and off duty" shots of Karlie — from fittings and runway shots to photos of her morning routine. Shocker: She's still beautiful even with a foamy toothpaste mouth.