Mad Men Fashion Recap: Meet Jane's Midriff
What's better than a genie outfit? A genie outfit on LSD.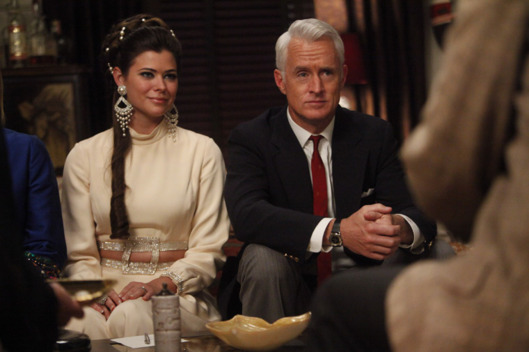 There weren't many costume changes on last night's Mad Men (and no Joan or Betty), but Roger's wife Jane makes up for the episode's lack of sartorial variety by wearing a fabulous two-piece getup that bares her midriff and connects at the waist with a sparkly belt buckle. So dressed, she takes Roger to a dinner party at her psychiatrist's house, where they all do LSD together in a stuffy-looking Upper East Side living room. Meanwhile, Peggy goes further 'round the bend in a schoolmarmish dress, Megan repeats an outfit from the season's first episode, and Roger wears a pink towel turban. Enjoy our full fashion recap of last night's episode.
BEGIN SLIDESHOW