Mad Men Fashion Recap: Mod Sally
Every woman had a chance to sparkle at least once last night.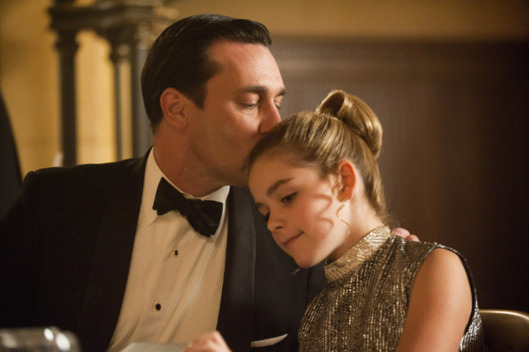 The great pleasure of this season's fashion has been found in watching Megan dress perfectly for every occasion. Whether she's pitching ideas to Don in a collegiate navy turtleneck and striped skirt or saving an account at dinner in a sparkly mini, she always strikes the right balance between business and bombshell. In last night's episode, Megan uses her style know-how to give Sally a mod make over, putting her in a silver and gold go-go outfit, complete with white leather boots and a high ponytail. Sadly, Don immediately tells Sally to loose the boots and makeup. Meanwhile, Peggy takes Joan's advice to buy something special in anticipation of Abe's "proposal," and she purchases a hot-pink dress (instead of her usual plaid pinafores). Roger's ex-wife, Mona, makes a brief but welcome comeback in a sequined shift, but Roger is taken with Megan's gorgeous French–speaking mother, who seduces him in her black gown with rhinestone neckline. See all of the episode's best looks in our fashion recap.
BEGIN SLIDESHOW