Well, This Is One Way to Show You're Fine With Someone Else Getting the Dior Job
Marc Jacobs has other things on his mind.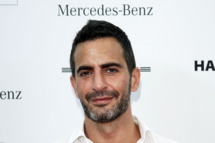 Marc Jacobs spent the weekend celebrating his birthday (he turns 49 today) in Rio de Janeiro, accompanied by his previously rumored porn star/escort boyfriend, Harry Louis. Louis's Twitter feed says it all, sprinkled with winky faces: "it's my baby's Birthday, lol. Luv U Marc ;) x"