Michelle Obama (and Bo!) Get Ready for Easter
Even Bo is ready for the holiday.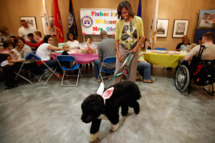 Michelle Obama took part in a pre-Easter celebration with military families and children at the Fisher House in Bethesda, Maryland today. She delivered candy, gave away tickets to the White House Easter Egg Roll, and even dressed up Bo, the ever-adorable First Dog, with bunny ears. For the occasion, Michelle wore a printed blouse, yellow cardigan, and gray pants. See both her and Bo in our updated Michelle Obama Look Book.