The New Yorker Bans Slacks
Show a little leg, Remnick!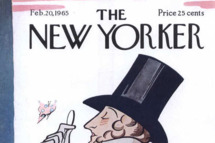 But what will David Remnick wear to work? (Lest he go the way of Marc Jacobs and show a little leg.) Just kidding — the magazine's website promises not to use the word slacks this week as part of its new Twitter–based game show "Questioningly," which asks followers to name a "single English word that should be eliminated from the language." Trousers came in a close second.