Pippa Parties With Dwarves, Strippers; Scandalous Photos Emerge
More details about her very exciting weekend in Paris.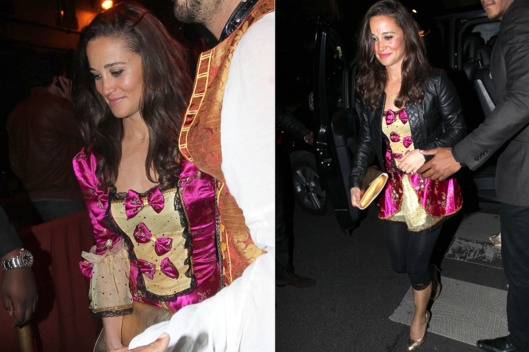 Just as Pippa's gun scandal was getting boring, photos have emerged of the costume party she attended on Friday night, which included much more than just silly outfits. Turns out Pippa cavorted in the presence of dwarves in medieval garb, a stripper popping out of a cake, and chastity-belt-related pyrotechnics. Yes, really! This kind of story is basically the Daily Mail's wet dream, so we'll defer to their breathless report:
The licentious bash at one of Paris's hottest nightspots saw costume-clad socialites greeted by three dwarves lounging on a sofa for their 'entertainment'... A smiling Pippa, in a scarlet corseted dress, even posed for photos perched on the side of a gilded throne – shipped in for the occasion – next to the vicomte, who wore a studded dog collar and chain...
The 'highlight' was the sight of a brunette stripper bursting out of a birthday cake and entertaining the guests, including Pippa, to a risque burlesque show which culminated in her striking her metal chastity belt with an electric angle grinder, showering the audience in sparks.
In other words, it was a combination of this classic Men Without Hats video and an average Tuesday night at the Box in its drunken pre-recession heyday.
Of course Pippa can do whatever she wants — she's not a member of the royal family, after all — but attending parties where women strip to renditions of "God Save the Queen" (yes, that happened too) will doubtlessly be frowned upon by some. Meanwhile, you'd think that photographers wouldn't be allowed at a party where people of high social standing were involved in such behavior, but no: Videographers followed Pippa around all night. You can see footage from the evening in this clip from French TV, below. (It starts about fifteen minutes in. Side note — Pippa speaks French!)
Remember the days when Pippa's butt was the most exciting thing about her?