Rihanna Laments Her Singledom in Elle
She wears an all-yellow Versace getup on the cover.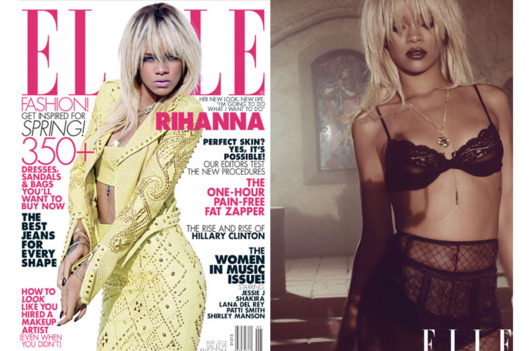 Rihanna covers Elle's "Women in Music" issue, wearing a studded, yellow lambskin skirt, jacket, and bustier by Versace. In the accompanying story, she vaguely brushes off the backlash regarding her reconciliation with Chris Brown. "People end up wasting their time on the blogs or whatever, ranting away, and that's all right. Because tomorrow I'm still going to be the same person. I'm still going to do what I want to do," she says. Right now, one of the things she wants is a new boyfriend. "I feel like it's hard for everybody! I don't think it has anything to do with being famous. There's just a major drought out there." Nothing a yellow bustier can't fix, surely.