So, About Marc Jacobs's White Boxer Shorts
Since we all got to see them last night.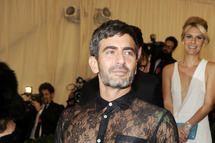 The world got to see lots of Marc Jacobs's white boxer shorts at the Met Gala last night. So, what are they? "Brooks Brothers, I think," he told the Times's Eric Wilson. So! Now there's no mystery left at all.