Who Wore It Best? Angelina and Snooki Try On Next Season's Bridal Gowns
Will they choose any of these options for their future weddings? We hope <em>yes</em>.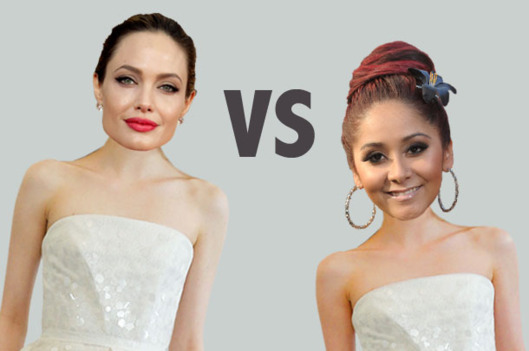 Welcome to wedding season! Against all odds, two polar-opposite celebrities got engaged within the same six-week period earlier this year. Nicole Polizzi, commonly known as "Snooki," decided to get hitched to her boyfriend of a year and a half, Jionni, after finding out that she was pregnant with his child. Then there's Angelina Jolie, who's been with Brad Pitt for seven years but said they wouldn't make it official until everyone, everywhere had the right to do so. They finally agreed to tie the knot after their caravan of children started bothering them about it. So, we decided Angie and Snooki would be the perfect duo to model next season's bridal designs (you can see the full collections here) from the likes of Oscar de la Renta, Carolina Herrera, and Vera Wang. It's like Bride Wars meets Pinky and the Brain, only much more fashionable! Click through our slideshow to see their potential future wedding gowns, and let us know who you think we photoshopped the best.
BEGIN SLIDESHOW