Iris Apfel Scheduled to Say More Fascinating Things at Sotheby's Next Week
With <em>Veranda</em> editor Dara Caponigro.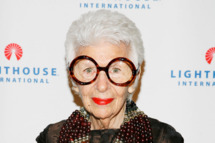 Fresh from donating 600 pieces from her wardrobe to the Peabody Essex Museum in Salem, Massachusetts, Iris Apfel will be interviewed by Veranda editor Dara Caponigro at Sotheby's on May 30. They're slated to discuss Apfel's career as a founder of the Old World Weavers fabric house as well as her famous personal style, but knowing Apfel, they might wind up talking about sexy dinosaurs (or the lack thereof). You can get tickets here.