Azealia Banks Deleted That Tweet About Performing at the Met Gala
And she supposedly wasn't the top choice for the job.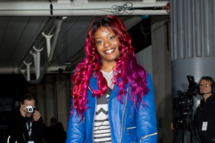 Her comments suspiciously disappeared from her Twitter feed sometime last night. And, "Page Six" adds, it's possible that Banks wasn't top pick for the job — sources say Nicki Minaj was asked to take the stage, but never signed a contract. After all, Nicki name-drops Anna Wintour in "Come on a Cone." She probably earned bonus points for that.